Saturday 22nd April 2006

Turned up at Heathrow around about 14:00 to change all of the groups tickets, as VARIG have been changing flights and times etc. (So far everything is good.) Our 22:50 VARIG flight to Sao Paulo RG8756 is on the board - Check in zone H. we then go to the Visitor centre to hand out some of the tickets to some of the Enthusiasts going on the tour. ( John from Australia / Ken and Pat from Ireland. ) At 17:00 the check in desks open. Those that have their tickets go over to check in all looking forward to making some real numbers... About half an hour after check in opens we get a phone call saying that the VARIG flight has been cancelled due to a technical problem. PP-VQK is the aircraft that then gets towed to a remote stand on Terminal 5. At : which was the time that the group was to meet at the VARIG Check-in Desks we have to queue up and check our bags in, after we have our boarding cards and now have no baggage, we join another queue to choose what type of room we would like at the IBIS Hotel ( Single / Twin / Double. ) VARIG told us that the flight would now depart at 15:00 on Sunday afternoon. We had to wait around the check-in desks until 19:00 when the coach would turn up and take us to the IBIS Hotel. On arrival, we received our room keys and were told that all soft drinks were free and that we would be having 3 free meals. This was an evening meal, a breakfast and lunch. Then a coach would come and get us at 13:00 from the hotel.

Sunday 23rd April 2006

After breakfast most of the group went to the Visitor centre, some went airside at Heathrow to do a bit of Duty Free Shopping and the rest stayed for lunch. At midday PP-VQK was still parked on Terminal 5 but they were loading catering, which was a good start. At about 14:00 another VARIG MD-11 arrived 40 minutes late and parked on one of the new gates on Terminal 3. On the departure board our flight now RG8756Y ( Previously RG8756 ) had a gate number. Our aircraft was now to be PP-VTI, we noticed that the Copenhagen part of the flight had now been cancelled. We received a phone call from some of the group at about 13:15 saying that the coach had not turned up, so in a mad rush they grabbed taxis and headed for terminal 3 ( Varig Paying ! ! ) Finally the aircraft had finished boarding and was ready to depart. After a slow taxi to 27R we got airborne at 16:06..

During the 10:43 minute flight we started with the moving map and a meal, 3 - 3 1/2 hours into the flight when we got over the Canary Islands the screens went down. So the rest of the flight had no TV..... One of our party was also feeling unwell and was advised to keep drinking every 20 minutes.. We arrived at 22:49 local time and all the windows steamed up because of the heat outside. It was a very quick transfer to our new flight which was a B.757-256 PP-VTQ which lifted off at 23:43. Unfortunately one of our group could no longer participate and was admitted to a medical centre in Sao Paulo for treatment and subsequently flew home. The next stop was Buenos Aires which took 2h24m, this meant landing at 02:07 in the very early hours of the morning. On arrival we logged what was on the deck, then met our guide who took us to the hotel.

Monday 24th April 2006

The hotel that we used was situated about a 5 minute walk up the main road from Aeroparque Airport, most of the group got up early, had breakfast and then took a stroll up to the runway threshold. All the Aerolineas Argentinas aircraft had Austral titles on the Right hand side and Aerolines Argentinas titles on the Left hand side..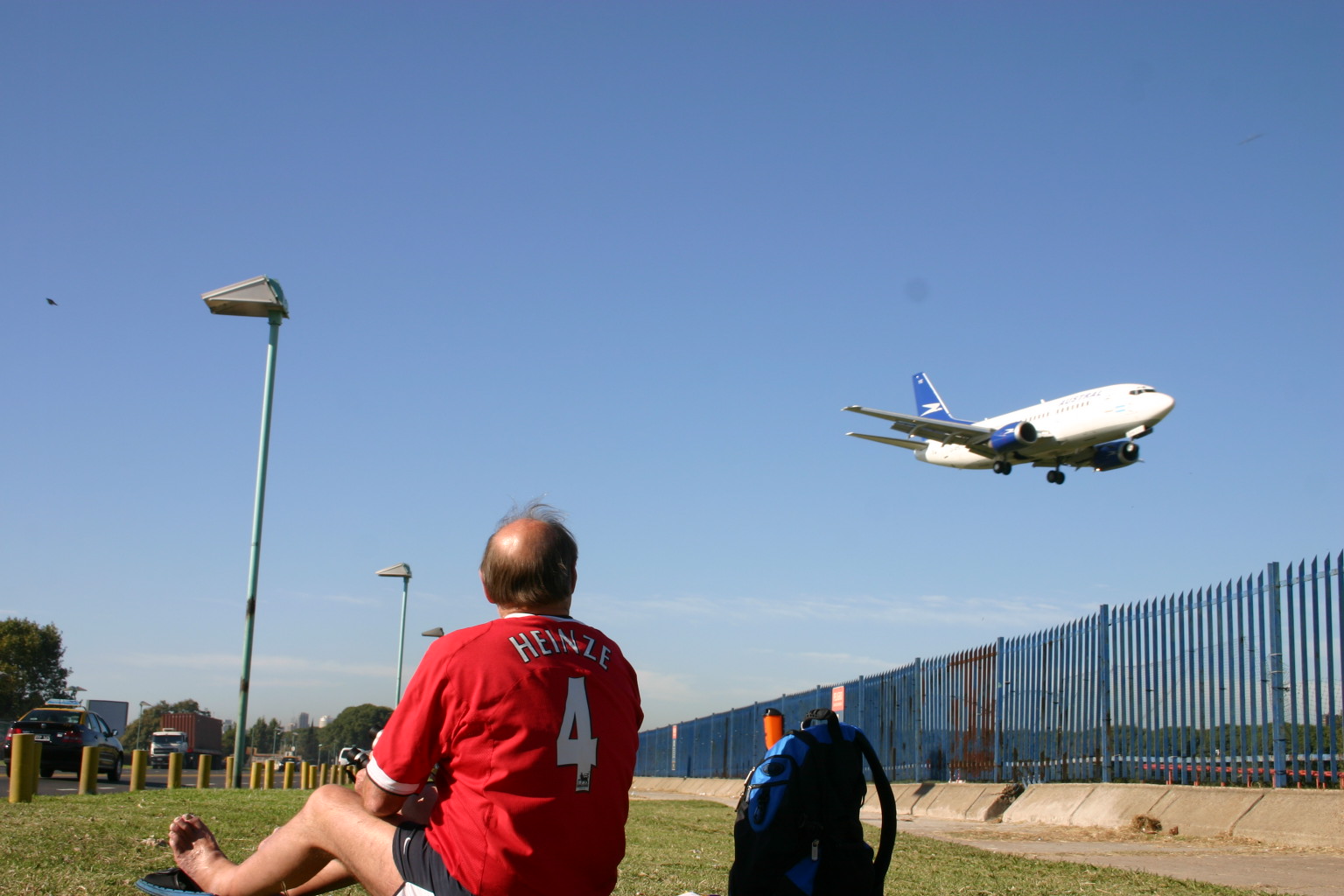 At 11:00 the guide and the coach met us at the end of the runway to take us to the museum at Moron, unfortunately the museum doesn't open on a Monday, but because of the cancelled Varig flight we tried to see what was outside and if they would let our big group go around. We spoke to the base commander and he was adamant that we could not go around, so we logged the two gate guards being E-218 MS-760 Paris and a Gazelle. We were then off to El Palomar AFB to see what we could see from the outside, we knew that there was a large flat area to see across from so we went and had a look. Before returning to Aeroparque we drove via the main International airport in Buenos Aires.. EZEIZA, we had a drive around the back of the Aerolineas Argentina hangars to read some of the stored aircraft and to see the planes on maintenance. Finally we got back to Aeroparque to get a few numbers into the book, before it was off to a good old Argentine Steak House...

Tuesday 25th April 2006

Another day, another Varig flight... Today its off to Sao Paulo, but first we make a quick stop at the end of Aeroparque to see if any of the General Aviation Aircraft have changed. There was only one for me and that was LV-AMB C.525 Corporate. Unfortunately a certain person left one of their pieces of luggage at the hotel, so we had to pop back to the hotel to pick it up. However because of this slight delay we ended up driving to Ezeiza a slightly different way, along past the docks. On the way we spotted an A-4 Skyhawk 0657 / 3-A-304 and a Meteor C-095 of the Argentina Navy. The groups next flight was due to be a Boeing B.737-800 flight RG8649 which should have been airborne at 11:40, but at 13:00 there was still no plane the gate was to be No.2 but we all thought it was going to be gate 8 as a Varig B.777 turned up at 12:30. At last our aircraft turned up at 13:50 which was PP-VSA B.737-800 with blended winglets. Our flight finally took off at 14:26. At 16:43 we touched down at Sao Paulo Guarulhos International, when all the group had collected their cases and changed their money into Brasilian Reals, we were met by our guide who took us to our coach and then onto the hotel that we would be staying in for the next 2 nights. Our hotel overlooked the military terminal and the threshold for both the runways.

Wednesday 26th April 2006

Today we were meant to have a ramp tour of both Sao Paulo Congonhas and Guarulhos International. The ramp tour of Congonhas was cancelled, possibly due to the fact that an aircraft had an accident there recently. We did however manage to phone up the local business jet company Lider Aviation, and had arranged to have a tour of their hangars at 11:00 thanks to our local guide. After the tour of Lider Aviation we then transferred to Guarulhos International for the tour there. Unfortunately the tour was just up to the top of the control tower, but this was good enough. The view from there was brilliant. The tower had video cameras on all ramps and looked over the stored aircraft. Using the video cameras we were able to read off aircraft that were parked nose on over the far side like the ATR.42 PP-PPI and other aircraft on freight and even those parked behind buildings ! Whilst visiting the tower we were able to see which aircraft were coming in, just before we left I saw that there was a Venezuelan Air Force B.732 due in from Manaus. The controller told me that this was due in about 40 minutes, 1 hour later it still had not turned up. So we waited for the Argentinian Learjet then we left. After the tour at Guarulhos International it was back to the domestic airport to catch the evening rush.

Thursday 27th April 2006

This morning is the last chance to do a bit of logging at Congonhas before we leave the excellent hotel and fly to Rio De Janeiro. As most of the domestic flights were repeating a lot by now, it gave us a chance to get a few photographs. The next plane would be PP-VTB Boeing B.737-300 flight RG2250 due to depart at 17:45, however after check-in we would discover that 4 of the group have been off loaded onto the 21:00 Boeing B.777-200 PP-VRJ flight. The downfall was that they could now not travel with the rest of the group, but on the other hand they got to travel business class. . . ( Once we had boarded the flight we found out that a large group of tourists that had just connected from the South African Airways flight had also been split over the two flights, we were a bit upset when four Varig crew boarded the flight and as we taxied for take-off there was at least one empty seat ! ! ) We finally made it to the skies at 18:23. After the cases were collected, we met up with our local guide Louis who was excellent and transferred straight to our hotel for the next three nights.The others caught us up later.

Friday 28th April 2006

On Friday morning we were off to Galeao International to have our pre-arranged ramp tour. We had contacted Varig to visit their facilities, but because of their current fleet status we were declined. We were not allowed on the military ramp, but by visiting the cargo area on the ramp tour we were able to read off 95% of the aircraft. Just as we thought that the ramp tour had finished, we started to drive down the main taxiway towards the Varig hangar ; Then they let us get out of the bus and walk along the side of the Varig ramp. After the tour of Galeao International we had a little spare time before our next tour at Santos Dumont, so we payed a visit to the local museum Campo Dos Afonsos. After a lite lunch at the museum it was off to Santos Dumont for our 13:00 tour. After leaving Santos Dumont you had one of two options, first was to pay a visit to the top of Sugar Loaf Mountain which cost 35 Reals or second was to go back to the hotel and then the evening was free to do what you wanted. Most opted for Sugar Loaf.

Saturday 29th April 2006

Today we have a day excursion to Belo Horizonte, we were due to fly via there to Brasilia and then have a nights hotel but because of the Varig cut backs and flight cancellations we had to make it a day trip. The flight would be PP-VNX Boeing B.737-300 flight RG2821 to Sao Paulo Congonhas and then PP-VNX Boeing B.737-300 flight RG2032 to Belo Horizonte Tancredo International. The flight to Sao Paulo was due to depart at 09:20, but didn't leave until 10:41. We knew that we wouldn't miss our connection as we were already told that it would be the same aircraft on the following flight. On arrival at Tancredo there were only four aircraft PT-MRS Fk.100 TAM, PR-MAC A.320 TAM, PR-GOB B.73G GOL and an All White B.732 presumably ex VASP. As nobody had any baggage, we were straight through baggage reclaim. Most of us jumped into taxis, four in total and we zoomed off to Pampulha home to Total Airlines. The taxi ride took about 25 minutes there and 35 back at 120 Kms, because of road works. It was like wacky races, weaving in and out of all the traffic and the different taxi drivers knowing different short cuts. When we got there we had a look from the observation terrace, but the airport there is now very quiet. We walked around the outside and had a word with a security guard on the gate about getting down to Lider Aviation. The guard took us there and we explained the situation, we told them that we had a tour at Congonhas and the women in charge telephoned her boss and gave us the O.K. to look around. We then raced back to Tancredo International for the flight back to Rio De Janeiro. Our aircraft back to Galeao International was Boeing B.737-300 PP-VTB, it was then back to the hotel for the night.

Sunday 30th April 2006

Sunday was the last day in Brasil for everyone, those on the basic tour would be returning via Paris Charles De Gaulle and the rest would be going onto Santiago in Chile.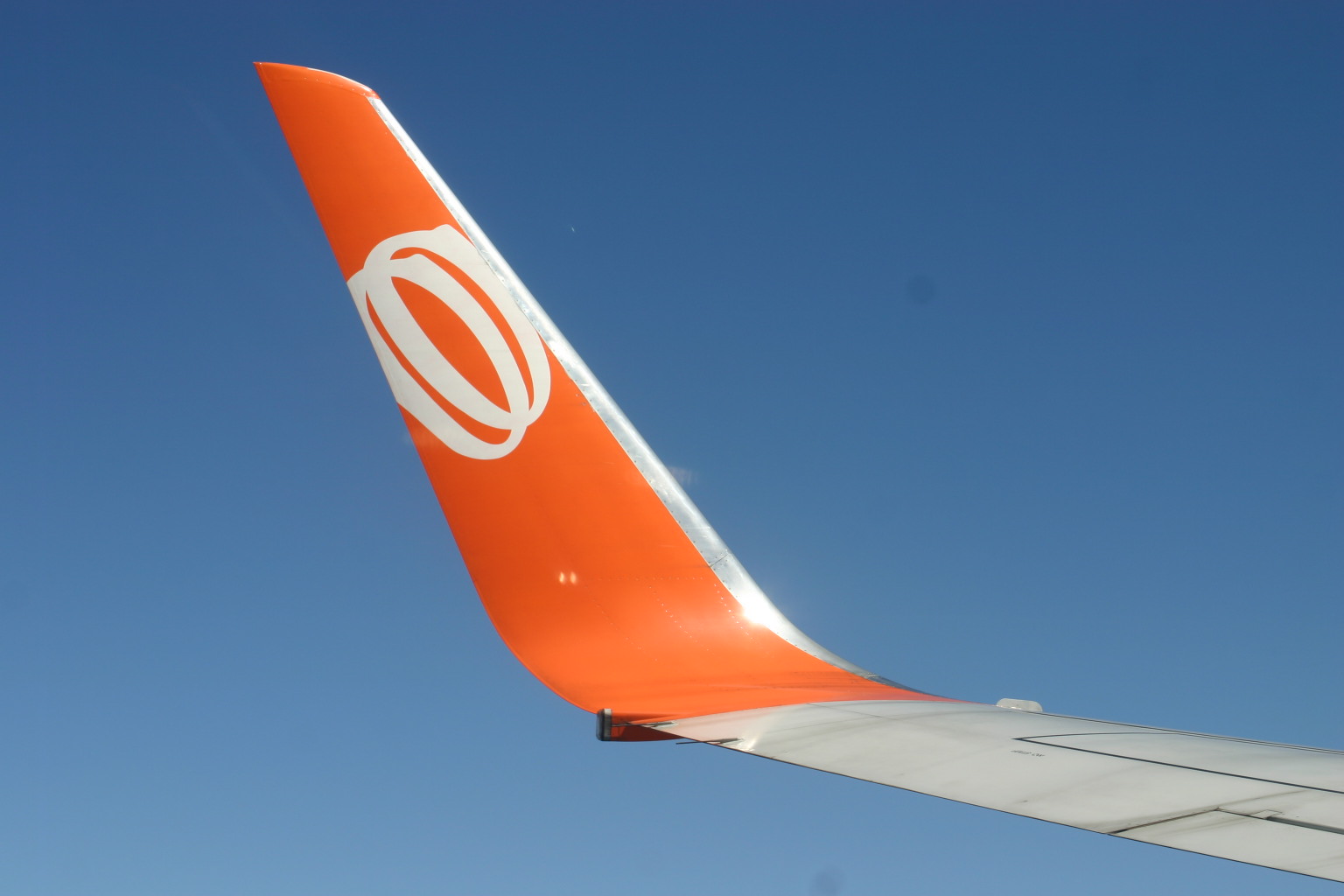 Today everyone was to go to Brasilia and then returning to Sao Paulo for their connecting flights. The ones on the short tour had 3 hours at Brasilia, where as the rest had 9 hours. The flight was due to leave Rio De Janeiro Galeao International at about 08:00 but had a 3 hour delay, which meant the people on the short tour could no longer do Brasilia as there was no point. Varig re-arranged them to go to Sao Paulo direct, the rest were given their boarding passes and seven went through. The people extending to Peru had a departure tax to pay, as a couple were trying to change their seats, we were then informed that the flight had been cancelled and we would now be flying GOL... At this time the people who went to pay their departure tax had returned, to find out that we would now be flying GOL. Varig took us around to the other terminal and checked us in on GOL. At 11:20 we departed on Boeing B.737-800WL PR-GOZ on flight GLO1906 bound for Brasilia, informed by Varig that the rest of the group would if not on this flight, be put on the next. When we arrived we found our guide and then set off to find out where the rest of the group was. They had informed us that they had flown to Sao Paulo to ensure they connected with the flight to Chile. We then had our ramp tour, knowing that the rest were now not coming. Our flight back to Sao Paulo Garulhos International would be Boeing B.757-200 PP-VTT, this flight was actually on time. Our connecting flight would be a night flight to Santiago, the flight details are RG8922 Boeing B.737-800WL PP-VSB Take-off time 21:48.

Monday 1st May 2006

We arrived at 00:40, so just inside the next day. It took about 10 minutes to clear Immigration and the baggage was there already. The hotel was very nice, it was about 5 - 10 minute drive away from the airport and was located right under the flight path. You could probably compare the distance to the Holiday Inn from LAX airport terminals. The hotel had free internet access, gym and an outside swimming pool. Later in the morning after breakfast all the group went into the hotel car park and read off the aircraft departing over the top. The guide and coach was suppose to turn up at 09:00 but didn't turn up until 09:20, but we can let them off as it was a Bank Holiday. The coach was very nice and had light blue leather seats and had a table inside, so some could use this to put their cameras on. We did a full circuit of the airport, which is very nicely laid out and superb for photos. It was then off to the museum which took about 25 minutes to get to, on the way there we saw a few of the sights. We saw the odd McDonalds or two and even a HOOTERS. Unfortunately because it was a Bank Holiday Monday the museum was closed. We still managed to log the aircraft outside though. After doing a circuit of the museum / airfield, we went back to Santiago International for the ramp tour that we had organised. After the ramp tour, it was back to the hotel. When we got back some of our group carried on spotting from the hotel car park, some of them checked their e-mails and the rest went for a nice relaxing cold beer.

Tuesday 2nd May 2006

Today we were all looking forward to picking off the last of our LAN fleet, but when we woke up there was a thick mist in the air. When we were at breakfast, we could hear the aircraft taking off but we couldn't see them. Four of the group jumped into a taxi and went back to the museum which opened at 10:00. The flight was due to be operated by an MD-11 on flight number RG 8921, to depart at 13:35. When we got to the airport there were two Varig flights on the board, one was to depart at 12:35 and the second 13:35. However both the flights had cancelled by them, so we went to the information desk and they said to come back at 11:00. When we came back to the check-in desks, they checked us in for the Sao Paulo to Heathrow flight, then they took us down to the LAN check-in desks. They kept us down there for about half an hour, and then said that they could get 10 of the 11 of us on as standby passengers. ( But not confirmed ) We then started to get angry with Varig and they then took us down to the PLUNA Uruguay check-in desks. As we were waiting at the check-in desks we could see two Do.228 going in and out of the General Aviation ramp, as the mist was lifting. They had then managed to find up 11 spaces on the PLUNA flight, so we were now going via Montevideo in Uruguay. This was a bonus, an extra flight, an extra country and an extra airport. We ended up departing on Boeing B.737-200 CX-BON at 14:47. When we pushed back the cabin crew kept walking up and down the plane, then the pilot came to the back of the plane. When I looked back, the floor at the rear of the cabin was soaking wet. ( I think the toilet had overflowed ! ! ) The plane then taxyied out and we departed.The view over the Andes was magnificent ! ! When we landed at Montevideo it was just starting to get dark and there was not much on the ramp. As we landed there was an American Airlines B.763 taxiing for departure. We were transferred on the ramp from one aircraft to the next as the outbound plane had been delayed on our behalf. We departed Montevideo at 18:34 on Boeing B.757-200 CX-PUD to Sao Paulo and landed at 20:34. Both our PLUNA flights had hot meals and were not too bad. It was also the first flight of the trip that had metal cutlery, but we could only borrow the spoons because we knew that we would have to go through another security check at Sao Paulo. When we landed, we parked off stand and had to be bussed to the terminal. ( A little ramp tour ! ! ) The last flight of the ( middle ) trip was RG875 McDonnell Douglas MD-11 PP-VTH in full Star Alliance colours, we manged to depart on time for once. Once again, there was no inflight movies ( Just some rubbish program ), only 2 meals which were nothing to write home about and there was only about 2 or 3 drink rounds. ( All on a 10h20m flight ! ! ).